CANNATRON BLOG

How to Explain the Ooze C-Core to Your Customers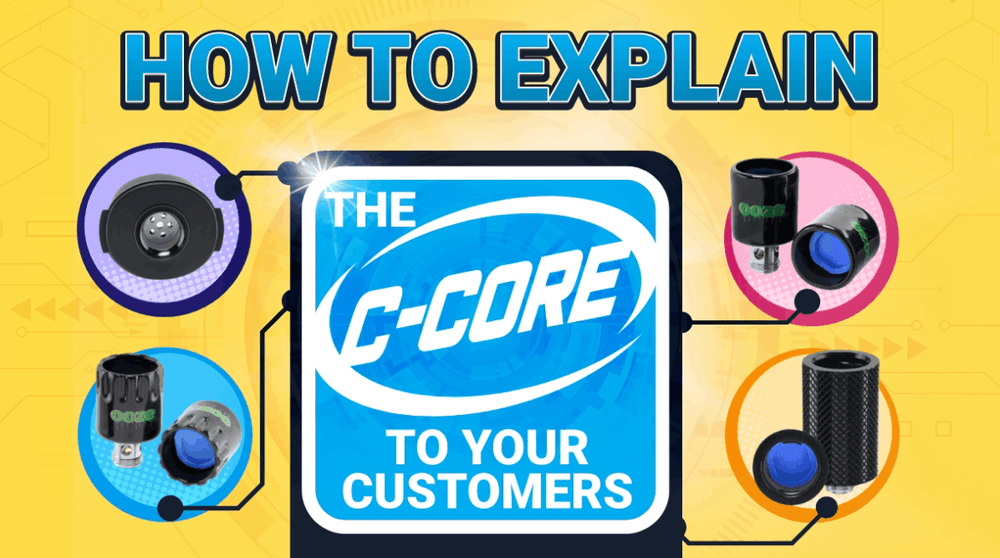 As the biggest day of the year for cannabis fast approaches, ensuring you and your staff are ready is critical. Every year on April 20th, all smoke shop owners should anticipate a massive influx of customers coming into their store asking lots of questions about the latest products, like the new Ooze C-Core Collection.
One of the best ways to maximize your profits this 420 is by providing a great customer experience. You can easily convert first-timers into lifelong loyal customers by answering their questions, giving them advice based on their preferences, and giving expert tips for maintaining their new gadgets. To help you maximize your 420 sales and enhance every customer's in-store experience, we are here to help you explain the new Ooze C-Core technology to your customers!
What is Ooze C-Core Technology?
C-Core is a new clean ceramic power source featured in the latest vaporizer collection by Ooze. It's designed to give users a more efficient vape session with better flavor and bigger clouds than ever seen before. The line features both C-Core for extracts and C-Core for flower, giving your customers the perfect new vaporizer option, regardless of if they smoke herb or enjoy taking dabs.
With smart ceramic expertly engineered to elevate the vaping experience, these new vapes also work better than devices from other popular brands with much heftier price tags. When your customers come into your store looking for a new affordable vape, you will want to tell them everything they need to know about C-Core, giving them a way to celebrate 420 like never before!
How Does Ooze C-Core Technology Work?
Your customers may have questions about C-Core, and one of the first will be how it works. Although it's an advanced new technology, you can explain C-Core by giving them the cliff notes. All the vaporizers in the C-Core collection work by using Ooze's proprietary ceramic formula, designed with a unique secret pattern that quickly and evenly heats then vaporizes cannabis, giving your customers a reliable and maximized vape session.
If your customers have ever had a bad experience with vapor production or purchased a vape that barely hit, the C-Core collection is specifically designed to RIP with hits containing more THC and cannabinoids! It also ensures that all vapor is 100% heavy metal free, making it a far safer option than competitor offerings.
It is important to note that the dry herb and extract vaporizers in this collection have different clean ceramic power sources. The C-Core technology for extract vaporizers is the Azul ceramic dish in the Onyx Atomizer. For dry herb vaporizers, the C-Core technology is the Nano-Glazed Ceramic Pod. However, we suggest simplifying this for customers by referring to the whole collection as C-Core! If they ask more about specifics based on both vape categories, here is a brief explanation of how the smart ceramics work to make magic happen:
C-Core For Dry Herb: Ooze Nano Glazed Ceramic Pod
The C-Core technology for dry herb vaporizers is called the Ooze Nano-Glazed Ceramic Pod. It contains a ceramic heating chamber that uses three heating methods and a C-Core micro sponge to simultaneously vaporize the outside and the inside of the flower chamber. Other dry herb vapes only heat the dry herb from the outside, which wastes a ton of product. This new method eliminates this unnecessary waste and enhances flavor production, all while conserving battery life.
C-Core For Extracts: Ooze Onyx Atomizer
The C-Core technology for extracts is called the Ooze Onyx Atomizer, which uses a smart ceramic disc with an Azul nano ceramic coating. This ceramic contains millions of pathways with an extreme micro-porosity that helps the dab spread evenly during heating. This instantly vaporizes the wax without leaving any residue, giving your customers a clean, powerful hit! The Ooze Onyx Atomizer also has a low coil resistance of 0.8 ohms, making every extract vaporizer in the collection a sub-ohm style vape.
Sub-Ohm Vaping
Ooze is one of the first brands to create sub-ohm vaporizers for cannabis products. Instead of big, heavy-duty vape mods that get filled with ejuice, these are concentrate devices that will create those huge, flavorful clouds the big vape mods produce. Old-school vape mods are sub-ohm vapes, which means they have a coil resistance of less than 1 ohm. This is what produces so much vapor all at once. If any of your customers also smoke vape mods, this a great way to sell them on an extract vaporizer because they will understand just how big their dab hits will be!
Finding the Best C-Core Vaporizer For Every Customer
In order to find the best c-core vaporizer for each one of your customers, it's essential to ask them the right questions about their wants and needs. Since every stoner has their own preferences when it comes to their stash, you will want to ask them if they prefer smoking weed or wax. Based on their answer, here are our expert suggestions to score you the sale:
If They Prefer Smoking Weed Over Dabs
If the customer prefers smoking weed over dabs, we recommend showing them the Ooze Verge Dry Herb Vaporizer, a smart vape that gives users full control over their vaping experience. It is the most powerful Ooze dry herb vape available, and features the C-Core Nano-Glazed Ceramic Pod to deliver the best vaping experience possible.
Unlike any other flower vape on the market today, the Ooze Verge uses far infrared heat to ensure all the product is evenly heated during the smoke session. It's also super easy to use, with a big OLED Screen, huge 0.5g loading chamber and long-lasting battery life that offers 10-12 sessions per full charge.
The Ooze Verge stands out amongst comparable dry herb vaporizers on the market, with more power, bigger clouds, and a more affordable price point your customers will appreciate.
If They Prefer Taking Dabs Over Smoking Flower
If your customer prefers taking dabs over smoking flower, we recommend showing them the all three C-Core extract vaporizer options. Ooze created these three simple designs with maximum function, all containing the Onyx Atomizer so users can rip bigger clouds than ever. Since there's something for everyone, and any budget, let's go through each vaporizer based on price point:
Most Affordable: Ooze Beacon
For customers looking for the most affordable option from the new C-Core collection, the Ooze Beacon Dab Pen is a powerful extract vaporizer packed into the familiar sleek shape of the OG Ooze vape. It features the new C-Core Onyx Atomizer, making it incredibly more advanced than what initially meets the eye.
It also has a dab tool hidden right under the mouthpiece, making it the perfect option for any customer looking for an all-in-one dabbing device. It's also easy to use, and at an affordable MSRP of $30.00, the Ooze Beacon is an excellent option for customers looking to maximize the value of their 420 purchase.
Most Versatile: Ooze Booster
The Ooze Booster Extract Vaporizer equipped with C-Core Technology is a must-have for customers looking for something more robust but still affordable. This two-in-one wax pen vape offers your customers the most even dab on the market.
This sub-ohm dab pen also features a water pipe adapter so your customers can enjoy the dab rig experience without ever needing to fire up their torch! At an MSRP of $50.00, the Ooze Booster is a perfect option for customers looking to spend a little bit more on a concentrate vape to get more features like dual functionality!
Most Advanced: Ooze Electric Barrel E-Rig with C-Core Technology
For customers looking to spend more on something more advanced like a portable dab rig experience, the new Ooze Electro Barrel E-Rig is the first electric rig equipped with C-Core. This incredibly powerful portable electric rig also has a removable water chamber designed to make every hit smoother for the perfect sesh every time. At an MSRP of only $68.00, this is one of the only electric rigs on the market with this advanced technology available at an affordable price point.
After your customers experience their first 420 with the new C-Core collection from Ooze, we guarantee they will become regulars at your store. We recommend sharing this information with your floor staff so they can do a great job helping customers find the best products to celebrate the world's favorite stoner holiday!