CANNATRON BLOG

What is Sub-Ohm Vaping? Ooze Launches C-Core Technology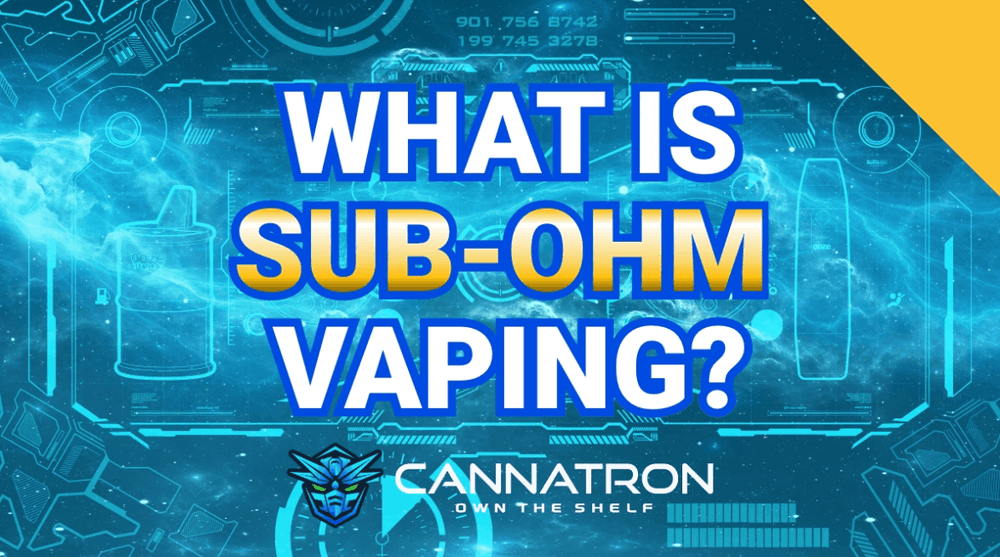 The cannabis accessory industry is constantly evolving as key players come up with new technology and innovative products every day. As a smoke shop or dispensary owner, staying on top of new trends, products, and consumption methods is vital to ensure you are stocking your store with the latest and greatest market offerings. This way, when your customers come in looking for new vape tech like Ooze C-Core technology, you'll already know what they are looking for, resulting in an easy sale! As leaders in the industry, Canantron is here to help keep you up-to-date on all Ooze and industry updates.
Today we are talking about sub-ohm vaping, something you've probably heard of, especially if your store stocks nicotine vapes. It's a relatively new way to vape that is making its way over to cannabis. Ooze has found a way to combine this vaping method with their NEW Ooze C-Core Technology, which will be detailed below in this article so you can better inform your customers and create eye-catching new product displays!
What is Sub-Ohm Vaping?
Sub-ohm vaping uses a coil resistance of less than 1 ohm, resulting in bigger clouds, more flavor, and cleaner hits than regular vaping. This vaping method was started by vapers using nicotine juice and a box mod. They discovered that using a more powerful battery and lower coil resistance could produce more vapor and create more potent hits. It quickly became the preferred vaping method by experienced vapers. However, it didn't catch on in the same way when it came to cannabis vapes, not until now, anyway. Now, Ooze is designing sub-ohm vapes that use the same method but for cannabis, resulting in more flavorful hits.
Sub-Ohm Vapes vs. Regular Vapes
The typical cannabis vaporizer has a coil resistance of 1 ohm or higher, which does not produce as much vapor as a sub ohm vape. This is most likely what your customers are used to, and some end up hiking up the voltage on their battery to try to get bigger clouds. This ends up burning out their coil, so sub-ohm vaping is a much more effective alternative. To summarize, cannabis sub-ohm vapes will give your customers bigger, more potent hits than regular vapes which we predict most of your clientele will be extremely excited about!
What is Ooze C-Core Technology?
C-Core is going to change the way your customers vape forever. C-Core Technology works by using the sub-ohm vaping method and a new technology called 'Smart Ceramic' which is designed with a unique secret pattern that quickly and evenly heats and vaporizes cannabis, giving your customers a more reliable vape session. Basically, the new Ooze C-Core product line for extracts and dry herb will give your customers a more efficient vape session with better flavor, and bigger clouds than ever before.
How does C-Core Technology by Ooze Work?
Regardless of your customer's preferences, Ooze has a new C-Core product designed to fit their needs. Since Ooze C-Core technology works for both extracts and dry herb, it's really a no-brainer to showcase this new collection front and center in your store! Here is how it works:
C-Core For Extracts
For your concentrate clientele, Ooze created the Ooze Onyx Atomizer using a smart ceramic disk with an Azul nano ceramic coating. This ceramic is unique because it contains millions of pathways with an extreme micro-porosity that helps the dab spread evenly during the heating process. This instantly vaporizes the wax without leaving any residue behind, giving your customers a cleaner and more efficient hit! The Ooze Onyx Atomizer also has a low coil resistance (0.8 ohms) for sub-ohm style vaping and maximum flavor production.
C-Core For Dry Herb
Customers that prefer flower can try out the new Ooze Nano-Glazed C-Core. These products feature a ceramic heating chamber that uses three heating methods to vaporize the flower from the inside and outside of the chamber simultaneously.
Other dry herb vapes end up heating the dry herb from the outside in, which wastes a ton of product and never gets to the very center of the chamber. This new method, called far infrared energy, penetrates deep into the middle of the pod, making sure all product is evenly vaporized. This eliminates this unnecessary waste, enhances flavor production, all while conserving battery life! The 
Heavy Metal Free Vapor
One of the key selling points of the new Ooze C-Core collections is that both the Onyx Atomizer and Nano-Glazed C-Core are 100% heavy metal free, giving your customers healthier hits. Below we will dive into every product in the C-Core Collection you'll want to have fully stocked.
Best Sub-Ohm Vapes with C-Core
From Ooze
Ooze Booster with C-Core Technology
For your customers that love concentrates, the Ooze Booster Extract Vaporizer is an incredible new two-in-one wax pen vape that offers the most even dab on the market. The Ooze Booster is a portable vaporizer with a resistance of 0.8 ohms, which is a great way to give your customers a sub-ohm vape pen option. It features the new Ooze C-Core Onyx Atomizer, which is designed to help the dab spread out evenly, for the smoothest and most efficient dab session yet.
Plus, it is an incredibly straightforward device to use and maintain so your customers don't have to worry; they can upgrade and streamline their next session. This sub-ohm dab pen also features a water pipe adapter so your customers can enjoy the dab rig experience even if their torch is out of butane! We recommend displaying every vivid color of the Ooze Booster in your store, along with replacement coil packs and other dabbing tools to maximize effectiveness.
Ooze Electro Barrel E-Rig with C-Core Technology
The Ooze Toxic Barrel Quartz Dab Rig proved to be so popular with concentrate customers that it only made sense to elevate it with the power of C-Core Technology. The new Ooze Electro Barrel E-Rig is the very first electric rig equipped with the C-Core from Ooze. It features the C-Core Onyx Atomizer, which enhances terpene flavors and increases cloud size for maximum efficiency your customers will love. It also has a removable water chamber designed to make every hit even smoother, for the perfect sesh every time.
Your concentrate customers will love this unique combination of a traditional dab rig and the tech advancement of an E-Rig. We recommend making a fun display of both toxic barrel products in your store, coil replacement packs, and other dab tools like the Ooze Hotknife to allow your customers every chance to experience this incredible collection of Ooze Rigs for concentrates.
Ooze Verge Dry Herb Vaporizer
Any customer who appreciates the simplicity of flower and the sophistication of modern tech will love the Ooze Verge Dry Herb Vaporizer. It is the most powerful Ooze dry herb vape on the market featuring Ooze C-Core Nano-Glazed ceramic technology that delivers the best vaping experience possible. One of the best selling points of this weed vaporizer is its massive 0.5g chamber, one of the largest capacities available within the cannabis accessory industry.
The new patented C-Core ceramic used in this device is designed for the most even heating possible by creating a network that vapes within and around your flower simultaneously. Other ordinary ceramics have pockets of heat that cool quickly, don't result in the same even sesh, and end up using up tons of battery life. The Ooze Verge's 2500 mAh battery is much more efficient, lasting 10-12 full sessions per charge. We recommend displaying the Ooze Verge Dry Herb Vaporizer in every color in a central location, as it will be an item all your customers are going to be asking for!
Ooze Beacon Slim Dab Pen - Coming Soon
The Ooze Beacon Dab Pen is another powerful extract vaporizer featuring C-Core technology that your customers are going to love. Although it looks just like other Ooze vape pens on the market from the outside, it features the new C-Core Onyx Atomizer that makes it incredibly more advanced than what initially meets the eye. It also has a dab tool hidden right under the mouthpiece, making it the perfect option for any customer looking for an all-in-one dabbing device!
After your customers experience the power of Sub Ohm Vaping with new C-Core Technology from Ooze, they'll never sesh the same again. We recommend keeping your inventory full of the Ooze C-Core Collection, as these revolutionary products are making cannabis accessory industry History!