CANNATRON BLOG

Q&A with Cannatron President: 2022 Predictions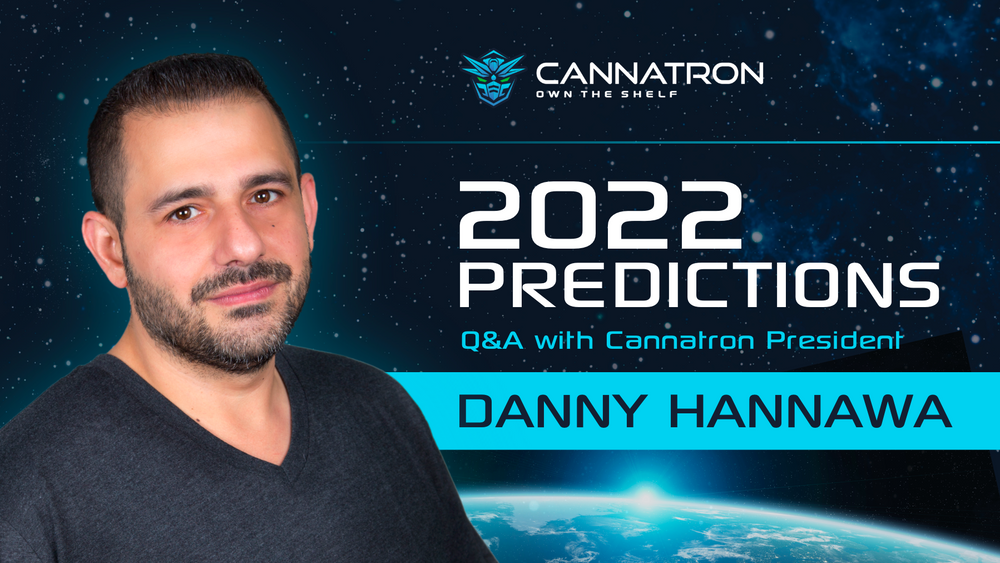 2022 is already off to a great start, with tradeshows ramping back up, out of stock inventory slowly trickling back in, and shipping carriers working out logistical issues. We sat down with Cannatron's President Dan Hannawa to discuss what he expects to see in Q1, and the trends he anticipates will drive many business' plans for the upcoming year.  
Dan is one of Cannatron's founding partners and has grown the distribution business from a small warehouse to the behemoth it is today. Our leadership plays a significant role in day-to-day operations at Cannatron. Since they are so hands-on, they truly have their fingers on the pulse which gives them the knowledge to confidently predict the direction the industry is going in. 
Q: What products are your customers looking for in 2022? 
A: Dabbing products are going to be huge this year. Even just a couple years ago, concentrates were still relatively new, and basically only used by serious smokers or those who have been smoking for years. They're much more mainstream now, so the demand for product variety and innovation is growing fast. 
Butane torches are the classic way to heat up dab rigs, but we're seeing a lot of brands move away from the butane set up by creating electronic devices. Most concentrate users know what nectar collectors are now, so we're seeing a lot of expansion in that space. While the electronic options continue to grow, I am not seeing too much innovation or new spins on these devices. The brand that can elevate these products to new levels will take the industry by storm this year. 
Q: What services and experiences are your customers hoping to see from Cannatron? 
A: Our distribution partners look to us as more than just a place to order their inventory from. The Cannatron team is recognized as a group of product experts who know more than just what's in stock, what's new, and what's a best-seller. We understand why these products are popular, how they should be used, marketed, and merchandised, and communicate that to our partners so they can share that information with their own customers to increase sales. 
Speedy delivery is also front of mind. 2021 was a logistical nightmare as far as shipping goes, but we have reworked our warehouse processes to make sure order fulfillment is as quick as possible. We have diversified our shipping carriers, too, so we have different options if one is experiencing delays. Keeping our customers' shelves filled is our top priority. 
Q: What are your predictions for the vape industry? 
A: The vape industry is going to continue to grow for years to come. This is a cannabis segment that has really only scratched the surface of possibilities. As oil products get cleaner and more brands become trusted vendors, these products are only going to become more widespread. They are easy to use, discreet, portable, and low maintenance. As long as regulations are not introduced to hinder this growth, I predict that vape brands are going to have a great year. 
Q: Do you have any distribution trend predictions? 
A: Just like there is a lot of differentiation between the types of shops in our industry, like smoke shops, vape shops, c-stores, etc, that same differentiation exists for distributors. There are distributors that sell products that are only sold in smoke shops, there are vape-only distros, and there are the convenience store distributors that also sell things like chips, tobacco, and candy.  
I have been seeing a lot of our distribution partners crossing over into new categories lately. For example, we have convenience store partners who typically only buy papers or wraps now adding glass pipes, bongs, and grinders to their orders. I expect to see more crossover from distributors who have typically stayed in a single category lane in the past. 
Q: What qualities do you look for in a Partner Brand? 
A: Uniqueness is key. I seek out brands that are innovating in their own space. For Cannatron to bring on a new Partner Brand, their products have to wow us first and foremost. We don't just sign up brands who are remaking the exact same thing as the next guy and slapping their own logo on it. A new take on classic, staple products is always exciting, which is the case with one of our most recent Partner Brand additions, White Rhino. 
Price point is also a major factor in the decision to bring on a Partner Brand. We work with our Partner Brands to secure exclusive price points, or even exclusive distribution rights in some cases. This allows us to work directly with the people behind the brand to create a business plan that benefits everyone involved. The third factor in bringing on a Partner Brand would be those people behind the brand. We choose to work with good people who we easily get along with to create a pleasant, successful working environment. This allows us to keep the joy and motivation rolling in everything we do here. 
Q: Do you have any final thoughts you'd like to share for 2022? 
A: Honestly, we need to see more innovators enter the space this year. New technology, new ways to use, new hybrid product creations are what keep this industry exciting. A few years ago I would walk around a tradeshow and be blown away by all the creativity and new ideas popping up all over the place. Lately, we haven't felt that same excitement, and haven't seen too many cool new things that we can't stop talking about. If there's one thing this industry needs in the next year, it's to sit back, inhale, and let the creative juices flow. That's how we come up with the next generation of category killers.